iPOWER Solutions™ to Power Your Operations

Werres represents the leading battery and charger manufacturers. Batteries are designed to deliver consistent reliable power to increase the running time of your lift trucks and can be fitted with watering systems to make maintenance easier.

Our full line of forklift batteries, chargers and battery handling systems are designed to keep your business moving in the most demanding industrial and warehousing environments. All our batteries and chargers come with comprehensive warranties and are backed by our superior product support.
Mobile Battery Services by iPOWER Solutions™

Your supply chain is complex. The challenge lays in simplifying current processes while surpassing the industry's rate of change. Not an easy task, but we can help.

The regular maintenance of forklift batteries is often overlooked in a busy warehouse or distribution center. However, with proper charging and maintenance techniques you can add years to battery life which can lead to significant cost savings on high-priced items. And now, you don't have to follow an outdated approach to maintain your lead-acid batteries.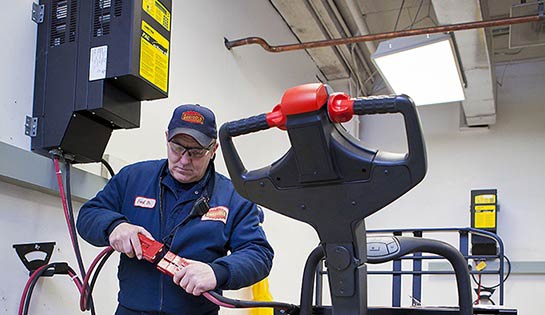 Forklift Batteries and Chargers
From walkie pallet trucks to our heavy-duty very narrow aisle turret trucks, we fit the battery to the vehicle to achieve optimum performance throughout the workday. When it's time to recharge, we offer forklift battery chargers for every material handling environment, budget and battery type — including fast-charging and opportunity-charging systems.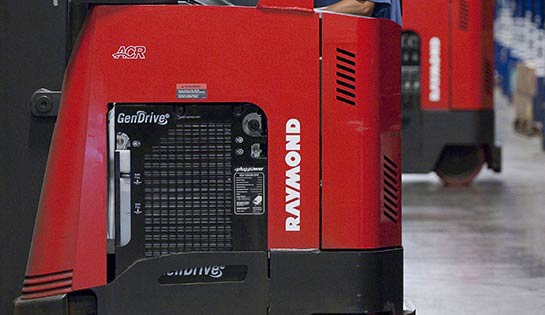 Fuel Cells
Hydrogen fuel cells offer higher productivity because they can be recharged in several minutes versus several hours, eliminating the need to change batteries. The fuel cell's power remains constant until the fuel is depleted, so there is no performance degradation. And hydrogen is environmentally clean — the only by-products from a fuel cell are water and heat.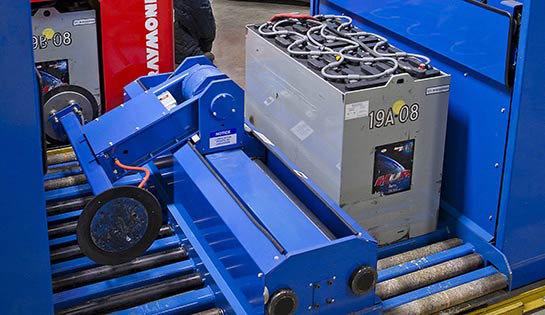 Battery Handling Systems
Having the right setup can reduce turnaround time and ensure proper handling when servicing and storing your lift truck batteries. Raymond offers a complete and comprehensive array of battery handling products, systems and services. Contact us to find out how Raymond can configure a forklift battery handling solution to suit your specific needs.
Lithium Ion
The Raymond 8250 walkie pallet jack, powered by lithium-ion, is a reliable workhorse delivering increased power capabilities and efficiencies so that you can run longer, recharge quicker and move more pallets. A 2" reduced head length allows for greater maneuverability in tight spaces. And, maintenance is reduced with a truck that is durably designed with a battery that doesn't need servicing.
Please fix the following errors and resubmit.